In the run-up to Easter, there are always lots of questions about good Easter books for children, so here's a list of my favourites. Each book has notes about what I like and what age I'd use them with. I hope it helps you choose the best Easter books for your family, and maybe even one for yourself!
I've grouped them roughly by age group, starting with toddler and working up. These are my suggestions but as with all things, you know your child best so you'll be able to spot books which will work best for them.
---
The Easter Fix by Steph Williams is a fab little book (I like square books!) that has a SUPER simple version of the Easter story The amazing things that happened to Jesus come to life with nice pictures, excellent use of colours, fonts and blank space to communicate visually which is essential for a young reader. As with all good books, it brings us into the story, making the connection between Jesus and us. Steph uses words and images to show that because Jesus came alive again (I love how she uses this phrase rather than 'rose from the dead'), one day everything will be fixed forever.
I'd say it's for toddlers and upwards, as my 8- and 9-year-old both liked it. The images are not baby-ish and the story is well told.
---
The Way of the Cross by Andrew McDonough is a wonderful book that is part of the Lost Sheep series. Bold illustrations track the details of the Easter story from Jesus praying in the garden of Gethsemane to his burial in the tomb. Andrew includes the parts of the Easter story often omitted from children's storybooks, but he does his usual excellent job of tackling hard theology and getting it across well.
This book works well for under 5s, but also for 5—8s and older people too! I really like this series; it's easy to read but has more depth than you first expect. As always, there's a page of notes in the back for parents, and it also lists the fourteen traditional stations of the cross with Bible references to look up. Read my full review here.
---
Dave the Donkey is another fab book by Andrew McDonough and is also part of the Lost Sheep series. It is a conversation between Dave the donkey and his grandpa. It turns out that his grandpa had carried Mary when she travelled with Joseph to Bethlehem, while Dave carried Jesus into Jerusalem just before his death on the cross.
This book works well for under 5s, but also for 5-8s and older people too!
I know it sounds like it's too silly to take the Easter story seriously, but Andrew does a great job of combining humour and holiness. You'll have to read it to find out! Or watch this video of Andrew reading it here. You can read my full review here.
Only £5.99
---
The Seriously Surprising Story by Dai Woolridge is a brilliantly told and cleverly illustrated story of the two Jesus-followers on the road to Emmaus (which happens to be a personal favourite story of mine!). It's rhyming, but not corny, with lovely illustrations by Emma Skerratt. It 're-caps' the life of Jesus but then tells of his place in the story of God's people. He is a 'stranger' on the road who chats with the two disciples, one of which is a woman (I like this as the Bible doesn't say which gender they were).
Only £2
---
The Last Supper by Katherine Sully is a simple but lovely telling of Jesus' Passover meal with his followers on the night he was arrested. It shows very clearly how Jesus went intentionally to Jerusalem, to celebrate Passover and includes the turning over of the tables in the temple. The illustrations show a fairly accurate Passover meal, and the writing helps connect Jesus' words and actions with our contemporary communion rituals.
I like that it ends with Jesus praying in the garden of Gethsemane, which would mean it works well as a part of the storybook.
This book leads perfectly into Katherine's other book, The Easter Story which details the rest of the story. Paperback version.
---
On That Easter Morning by Elena Pasquali was recommended to me in a Godly Play online group, and this book provides the gentle, thoughtful, and beautiful telling of the Easter story which I hoped for. The images are really, very wonderful, especially of the risen Jesus, who is pictured in a garden full of plant and animal life.
I also like how there is more than one resurrection story – the women in the garden and a picture of Peter meeting Jesus on the beach. It doesn't shy away from telling the story of the crucifixion, but does so in a reflective and gentle way, with images that stir compassion, not horror. This is one I look forward to reading over and over again.
---
Make room – a Child's Guide to Lent and Easter by Laura Alary
This lovely book is good for children ages 5—10 or anyone who would like a simple, practical explanation about Lent and Easter. It beautifully connects the traditions of Lent–making space and making room–with stories in the Bible and would be a great addition to any family library.
---
Easter Family Time by Lucy Moore with Martyn Payne and Jane Leadbetter is a gorgeous little book which cleverly tells the Easter story, while also asking questions to think and chat about and also includes puzzles to do.
Every page tells a bit of the story, but also has pictures and things to fill in – it packs quite a punch for a small book (10cm square).
Only £2.50 or less in packs
---
The Story of King Jesus by Ben Irwin tells the story of Jesus from the beginning – the garden of Eden– a super-fast summary of the Bible, showing how king Jesus' death means that we can be God's people again. I particularly like how it shows the purpose of Jesus' death without a heavy emphasis on sin and atonement theory, which can be hard work for young children to comprehend and is only one way of explaining the reason Jesus died.
Good quality used copies for as little as £1.63
---
My Easter Egg Hunt is a wonderful book created by a Christian Mum in response to children's questions about Easter. A child discovers why Good Friday is called good, and other questions.
The story follows a child through the preparation and celebration of Easter, and she speaks to different people and hears their thoughts on why Easter is important to them.
It's quite different from other Easter books and my children really like it! I'd recommend it to you.
Only £4.57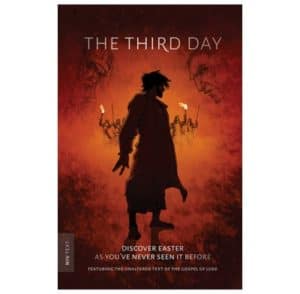 ---
The Third Day by Alex Webb-Peploe illustrated by Jago (from the Jesus Bible story book) is a gripping, gritty graphic novel of the Easter story. Including direct quotes from the Bible, this is a great book for older children and adults. The details of the story are great, and there's a good level of suspense as you approach the third day. The joy of the women and the disciples is palpable. I love it and would recommend it for older children (mine at 8 and 9 find the illustrations too gritty).
---
The Story of Jesus is the 40 page mini-book included with the Easter countdown Calendar. It has the story of Jesus told directly from Mark's gospel, with selected stories chosen to include the ones involving women and children as well as men! It's written in a good size font to make it easy to read for younger children and older people like me! And it has a section of story to read each day in Lent, although you can read it whenever and however works best for you and your family. Get yours as part of your Easter Countdown Calendar here.
---
Last, but possibly my favourite of all, is The Glorious Impossible by Madeleine L'Engle. This book is one I come back to each year because the images and text are timeless. It starts with the story of Jesus' birth but goes right through to his death and resurrection, with each part of the story using one fresco by Giotto, paintings found in a chapel in Italy. Madeleine L'Engle's writing is just beautiful and perfect for telling this most mysterious story, where glorious and impossible things happen. It's only available second hand as far as I know, and the price changes through the year. At the time I wrote this, I found a copy on Abebooks for less than £10, which is a great offer, as I think I paid £30 for mine! Read my full review here.
---